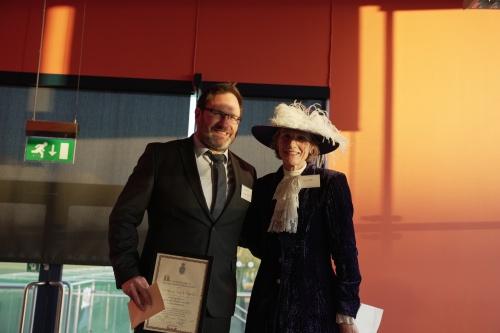 Warwickshire House Project wins prestigious award
Posted 4th May 2022
The Warwickshire House Project was delighted to be invited to the High Sheriff's Awards for 2021/2022 on Thursday 7 April, hosted by the High Sheriff of Warwickshire, Lady Min Willoughby de Broke at The Halse Pavillion at Warwick School.
The awards ceremony was an opportunity to welcome many of the amazing individuals and organisations that High Sheriff has met over the past year and recognise them with awards and small grants from the High Sheriff Fund, which provides grants to many small voluntary and community organisations operating at a grassroots level in Warwickshire.
Warwickshire House Project received an award to recognise the great and valuable services they have offered the community along with a £1,000 reward from the High Sheriff Fund. The project, commissioned by Warwickshire County Council (WCC), has been running in Warwickshire for over three years and offers support to care experienced young people to move into their own home and to develop the life skills they need to live independently and look after themselves. The Warwickshire House Project has already supported over 35 care leavers across the county to live independently since it began. The financial reward from the High Sheriff Fund will allow the team to further support Warwickshire young care leavers.
Matt Smith, Team Lead of The Warwickshire House Project said "We had a wonderful evening at the High Sheriff of Warwickshire Awards last month. The event celebrated the charities, organisations and individuals that support the people and communities of Warwickshire. It was a great opportunity to hear about unsung heroes helping people at their time of most need. We were honoured to be invited and blown away to receive an award for our work with care leavers in Warwickshire."
Follow us on Twitter at @WarwickshireHo1
Find us on Facebook at @WarwickshireHouseProject
Latest News
News Categories
Recent News