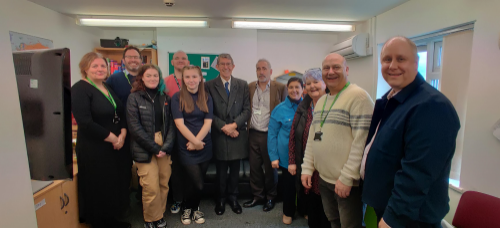 Warwickshire House Project visited by local councillors
Posted 17th February 2023
The Warwickshire House Project was recently visited by Warwickshire County Councillors and the Assistant Director of Children and Families, John Coleman. The purpose of the visit was to showcase the work of the House Project team to support young care leavers and for the young people to share how the House Project contributes to their move to independence.
During the visit the councillors were treated to breakfast made with the help of the young care leavers. This was followed by a presentation from House Project lead, Matt Smith, where the Councillors were able to ask questions and get feedback from the young people. Young people, Katie and Kyra shared their experience with the House Project and how it has helped them.
Councillor Jeff Morgan, Portfolio Holder for Children and Families, said: "The visit to Warwickshire House Project was great as it allowed myself and my fellow Councillors to hear for ourselves how the House Project has helped and supported our young care leavers.
"We want Warwickshire to be the best it can be for the county's care leavers, offering a great place for them to live, learn and grow. The House Project is a friend of Child Friendly Warwickshire and works hard to ensure care leavers' voices are heard, they are engaged in all aspects of their lives, and they are empowered to reach their full potential."
Commissioned by Warwickshire County Council (WCC), the Warwickshire House Project team work closely with care leavers to identify the learning and support they need to move on from care and into their new home. This home then becomes a base for them to become independent and transition into adulthood.
The young people are supported into education, employment, and training, and they are taught skills such as learning to cook a variety of meals, managing budgets by providing financial training, and advice and support on maintaining their home.
Sign up to the monthly Warwickshire House Project newsletter to stay up to date.
Latest News
News Categories
Recent News