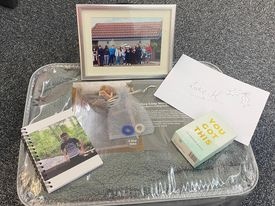 Mental Health Boxes
Posted 18th December 2020
At Warwickshire House Project we have been lucky enough to work with Tina Costello CEO at Heart of England Community Foundation and Coop Helping Hands, to provide 22 Young Care Leavers with At Home Self Therapy Mental Health Boxes.
The boxes contain items such as, weighted blankets, acupuncture rings, mindfulness cards, goal tracking notebook, group photo and a personalised letter from staff with all the things that we love about them. All the above items reinforce positive thinking, boosts self-confidence, supports YP to stay focused, relieve stress, improve sleep, and reduce feelings of anxiety; all whilst they are in their own home.
With Lockdown and COVID increasing the cases of Mental Health it is more important than ever that young people know have the means to support their own mental health at home and learn new holistic approaches.
Latest News
News Categories
Recent News